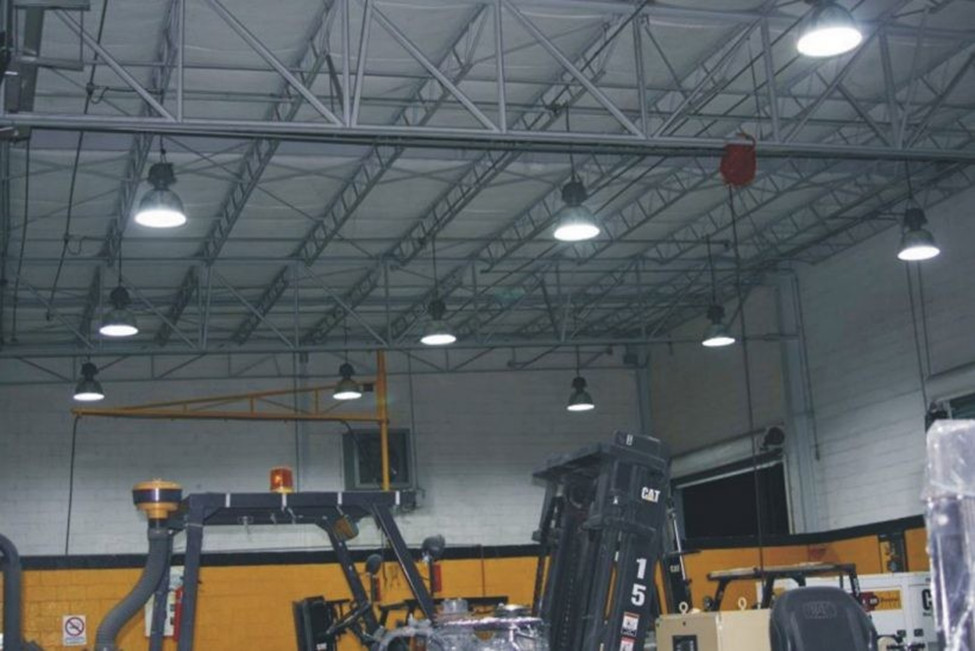 Many business owners that we have consulted with are aware of the amount of energy that the lamps inside those fixtures consume. Well, maybe not exactly how much, but when they look at their hydro bills every month, it's safe to say they're not always pleased. Those bell-shaped fixtures normally contain metal halide lamps, and labelling them as "energy guzzlers" is no overstatement. From at least a 20' clear height and above, many buildings normally have the 400 watt probe start metal halide lamps, which are actually consuming 458 watts each when you factor in the ballast as well.
458 watts each!
And here's what you are getting for that 458 watt lamp:
Very fast lumen depreciation (typically 50% of brightness is gone after 8-10,000 hours)
At least 30% of lumens are lost from the reflector (We call these loss lumens, when light bounces up off the reflector and back into the light source
Operating life is usually around 20,000 hours at the high end, so you do the math based on your company's hours of operation to determine frequency of changing lamps when they burn out (and don't forget added cost of new lamps AND labour)
They do not turn on completely right away (Normal warm up time is up to 15 minutes to reach 90% output)
And they consume 458 watts each!
Here's a formula on how you can determine exactly how much you're paying per year for each one of these fixtures:
458 X hours of operation per year / 1000 = kilowatt hours
Kilowatt hours X Cost per kilowatt hour = how much you're paying for each of these inefficient lamps
We've consulted with many companies with these fixtures in their buildings, and our company has created solutions that have generated between 65-75% energy savings (and even more with another option of ours!) from retrofitting those old, inefficient metal halide fixtures to new and extremely energy-efficient LED fixtures. Plus, we also got pretty sweet rebates for those companies as well! 😉
If you have these fixtures in your building and are looking for a free, no obligation lighting audit to see how much you are consuming and paying in total, and how our solution(s) will generate those high savings for you (and high rebates too), and get you a fast return on your investment, please feel free to reach out to our office at 416-548-7847. We want to help your company reduce this unnecessary expense, improve your bottom line, and help you further prosper with more money saved!